Warm fuzzies
Aesthetix Atlas Tube Hybrid Power Amplifier
I don't know if it's just me, but when I see a serial number on a amplifier or speaker that is less than 5 digits, I start to feel like I have a special audiophile experience in store.
Such was the case today with an Aesthetix Atlas stereo amplifier, serial no. 4176.
Now I know that serials often depict the month and year of manufacture, the revision number and other things. I know it's not perfectly sensible of a feeling.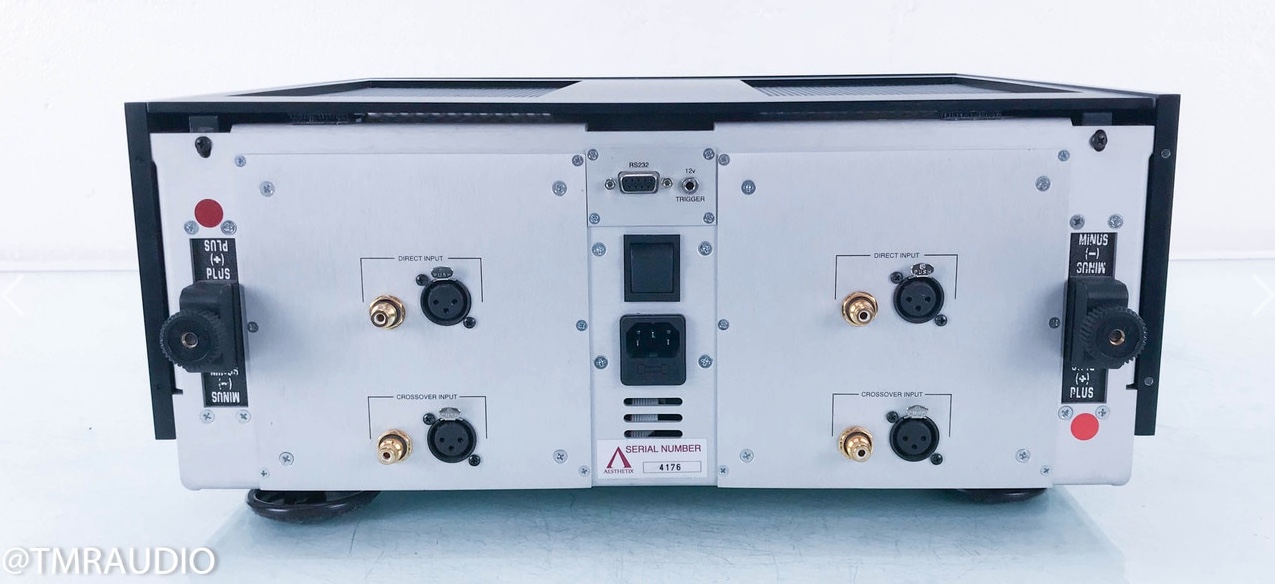 But I still have it. Massive, sparse and straight-to-the-point back panels like the Atlas lend seriousness to my observations and especially when the sparse features are individually well-chosen, like seeing those Cards binding posts on the back.
I get those feelings when I encounter a big Ayre amplifier or PS Audio's BHK series, which actually has a few things in common with this Aesthetix.
I have a wonderful supply of binaural reference recordings, and I go straight to them when I test an uber high end piece of equipment like this.
Today, I chose to blast my coworkers with the 48KHz/24bit WAV files from my dad's recent choral performance in Kiev, Ukraine.
Dad has a doctorate in choral conducting, and occasionally travels to Kiev to lead the Kiev Symphony and Chorale on one of his pieces (he's a prolific composer for choral music as well).
I wish you could hear this magnificent sound. The Aesthetix has that elusive amplifier trait of forced honesty and fidelity that I've also found in the Ayre and PS Audio amplifiers. The soundstage lock and tonal purity are there immediately.
But an amplifier doesn't get me to crack out the notepad unless it also bounces. This one has an extraordinary supply of bounce. What do I mean by that? I don't know!
After basking in the glorious, believable and vivid image of the Ukrainian soloist being out Agnus Dei from Handel's Requiem, I turned to another love of mine, which is bouncy electronic music.
I like new electronic stuff with a happy vibe and preferably real musicianship.
So I move on from my dad's amazing recording to another one with real juice - Electrocado's amazing track "Baited" from their album Scribble.
Talk about bounce. If you have your mains and sub(s) dialed in sufficiently, this one is an amazing banger. The quality of the bass content is truly stunning.
And I've honestly never heard it better than right now, via this amazing Aesthetix amplifier.
This is another one of those instant upgrade items. Add 35 points to your sound system immediately when you slide this big fella in place.